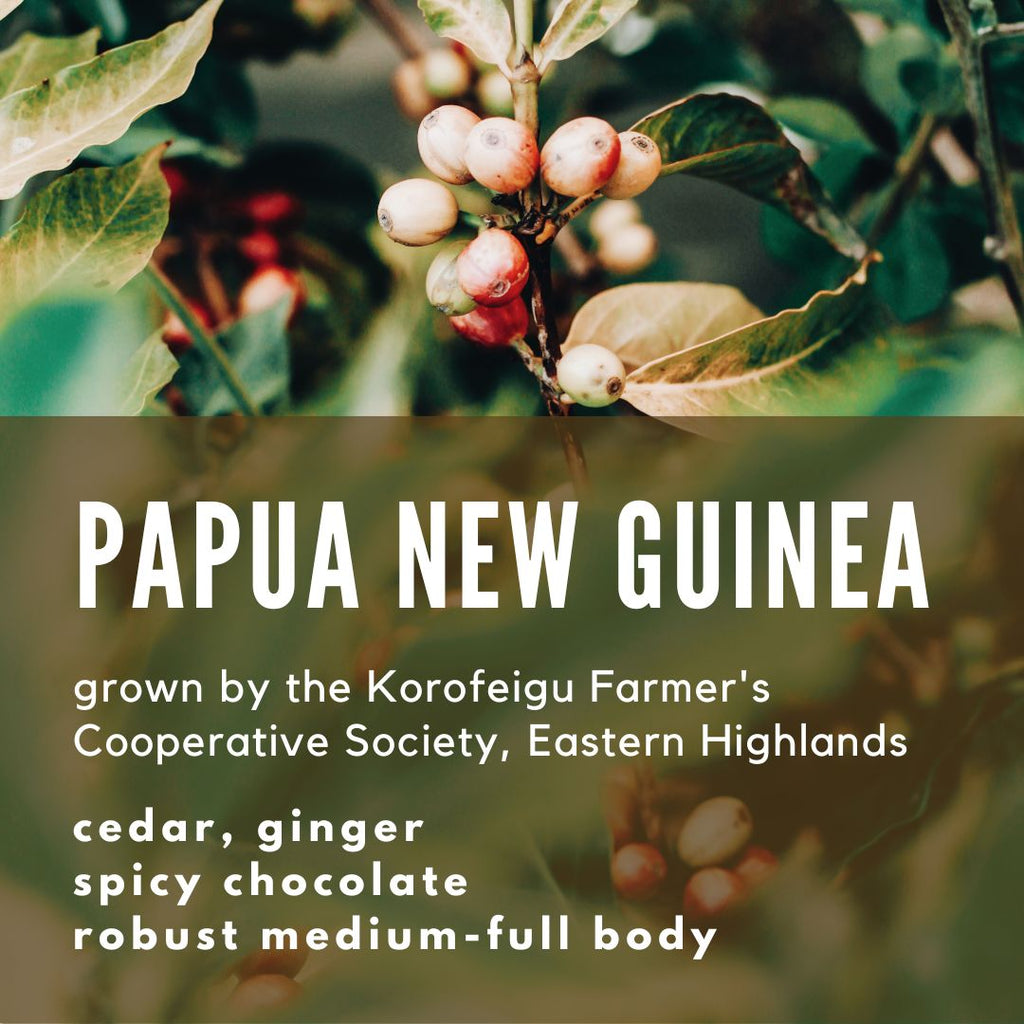 Papua New Guinea Coffee - Organic
Our Papua New Guinea Organic Coffee is produced by the Korofeigu Farmer's Cooperative Society, located in the Bena Bena valley of the Eastern Highlands of Papua New Guinea, between Goroka to the west and Henganofi to the east. The Coop is comprised of 97 members, with a total cultivation area of 112 hectares. The Korofeigu Organic certification program has positively impacted the livelihood of it's participants. In addition to higher premiums for their coffee, farmers have access to training, as well as regular social and healthcare workshops. 
The Korofeigu community was one of the first suppliers for NKG's New Guinea Highlands Coffee Exports (NGHCE).
The mountainous, moist, cultivation area has loamy soil and a variety of native shade trees, making it ideal for growing coffee.
Flavour notes: Cedar, ginger, spicy Mexican chocolate
Cupping notes: A robust coffee, with a medium-full, syrupy body and juice acidity
Roast: Medium
Certification: Organic
Region: Bena, Eastern Highlands, PNG
Arabica variety: Arusha, Bourbon
Sustainability: All of our coffee beans are traceable directly to the farm and the farmer. Our coffees are either Fair Trade Organic (FTO) or Rain Forest Alliance (RFA) certified, or grown as a collective/cooperative to assure a fair wage and good environmental practice. Our coffee bags are compostable.
Why buy from us? Our award-winning, ethically sourced coffee is freshly hand roasted to order every week. Our aim is to retain the main characteristics of single origin Arabica beans and to enhance them with delicate roasting. All of our medium roast single origin Arabica coffee is suitable for espresso too. Just choose Fine Grind or Whole Bean depending on your coffee machine. 
Love this coffee? Please do leave a review below. Thank you!
---
Share this Product
---
More from this collection